http://usaaf.com/8thaf/bomber/97bg.HTM
97th Bomb Group (B-17 Heavy Bomber)
<![if !vml]>

<![endif]>
Squadrons of the 97th BG
340th Bombardment Squadron - Heavy
341st Bombardment Squadron - Heavy
342nd Bombardment Squadron -Heavy
414th Bombardment Squadron – Heavy ( incl. W.L. Ross )
<![if !vml]>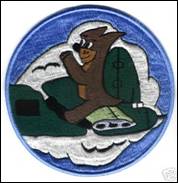 <![endif]>
---
Assigned 8th AAF: 20 May 1942
<![if !vml]>
<![endif]>
Wing/Command Assignment
VIII BC 20 May 1942
VIII BC, 1 BW Aug 1942
Combat Aircraft:
B-17E
B-17F
Stations
POLEBROOK 13 Jun 1942 to 25 Nov 1942
GRAFTON UNDERWOOD 6 Jun 1942 to 8 Sep 1942
Group COs
Col. Cornelius W. Cousland 3 Feb 1942 to 29 Jul 1942
Col. Frank A. Armstrong 31 Jul 1942 to 27 Sep 1942
Col. Joseph H. Atkinson 27 Sep 1942 to 5 Jan 1943

First Mission: 17 Aug 1942
Last Mission: 21 Oct 1942
Missions: 14
Total Sorties: 247
Total Bomb Tonnage: 395 Tons
Aircraft MIA: 14
Claims to Fame
Flew 8th AFs first heavy bomber mission from United Kingdom on 17 Aug 1942.
Early History:
Activated 3 February 1942 at MacDill Field Fl. formed and trained there until end of March 1942 when the unit moved to Sarosota AAB, Fl for training. Went overseas on the 15th of May 1942, with the aircraft of the 340th, and 341st BSs flying to Dow Field in, Me., and those of the 342nd, and 414th BSs to Grenier Field in NH. Elements were detached to Pacific coast bases from 2 to 11 June 1942. The first B-17s left for the UK on the 23rd of June 1942, flying by the northern ferry route, Goose Bay, Greenland, to Prestwick. The first B-17s arrived in England on the 1st of July 1942. The ground unit sailed on the Queen Elizabeth on the 4th of June 1942 and arrived in Clyde on the 10th of June 1942.
http://home.att.net/~jbaugher2/b17_21.html
The first USAAF Flying Fortress (B-17E serial number 41-9085) arrived at Prestwick in Scotland on July 1, 1942. The first Flying Fortress raid over Europe was launched on August 17, 1942 by 18 B-17Es of the 97th Bombardment Group against railroad marshaling yards at Rouen-Sotteville in France. Twelve planes made the actual attack and the remaining six flew a diversionary sweep up the coast. Brig Gen Ira Eaker flew along on this raid in B-17E 41-9023 "Yankee Doodle". The formation was escorted by Spitfires. No opposition was encountered from the Luftwaffe.
Boeing B-17E Flying Fortress, "Yankee Doodle," 414th Squadron, 97th Bomb Group, 8th Air Force
<![if !vml]>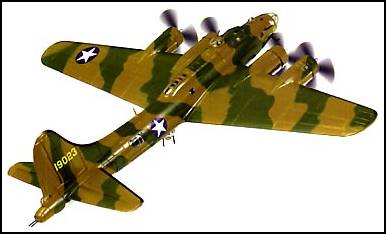 <![endif]>
On August 19, twenty four Fortresses took part in an attack on the German airfield at Abbeville in support of the disastrous raid at Dieppe. All planes returned safely to base, but the landing force at Dieppe was decimated.
The next ten raids went fairly well, with only two planes being lost.
Deteriorating weather and the needs of the North African front caused a change in plans, and most of the Eighth Air Force B-17s had to be diverted to the fight against Rommel. The two most experienced bomber groups, the 97th and 301st were committed to *Operation Torch* as the nucleus of the newly-formed Twelfth Air Force. On September 20, 1942, General James (Jimmy) Doolittle formed the nucleus of the 12th Air Force in England, and early in October the 97th, 99th, 301st, and 2nd Bombardment Groups were transferred to the new formation. The air war against the Germans in Europe had to be given a lower priority.
<![if !vml]>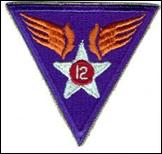 <![endif]>
<![if !vml]>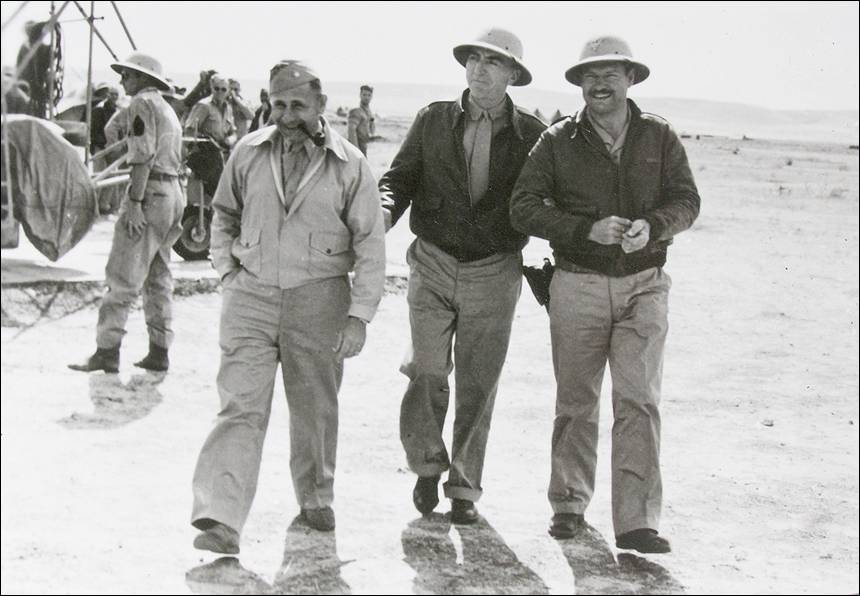 <![endif]>
Brigadier General Jimmy Doolittle with WWI Ace Eddie Rickenbacker and Ernest Hemingway     N. Africa ca. Sept. 1942.  Photo from collection of David Shelby (all rights reserved)
<![if !vml]>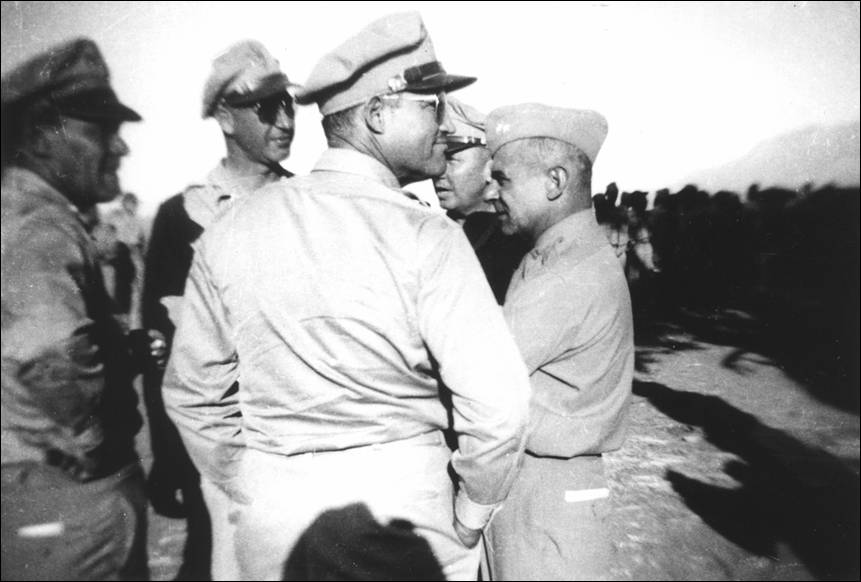 <![endif]>
Major General Jimmy Doolittle (right)    Commanding General of the Twelfth Air Force in North Africa. He was promoted to Major General (Two Star) in November 1942, and in March 1943 became Commanding General of the Northwest African Strategic Air Forces, a unified command of U.S. Army Air Force and Royal Air Force units.  Gen. Doolittle took command of the Fifteenth Air Force in the Mediterranean Theater of Operations in November 1943 from January 1944 to September 1945.       Photo credit Frank Dancey.
Subsequent History:
Assigned the 12th AF, XII BC, 14 September 1942, but continued to operate under VIII BC. The main part of the aircraft left Polebrook on the 18th of November 1942 for Hurn, prior to flying directly to North Africa. The ground unit sailed in convoy late in November 1942. Operations in the Mediterranean theater with the 12th Air Force for a year, then the group established in Italy as part of the 15th Air Force. The unit flew the first shuttle mission to Russia from Italy. Attacking targets chiefly in southern Germany and the Balkins.
<![if !vml]>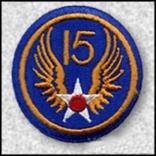 <![endif]>

The unit was established as a B-29 group in the states in 1946, and served as a Strategic Air Command wing for over 20 years.
http://www.zenosflightshop.com/ProductDetails.asp?ProductCode=WARBIRDLIB
* Bombers Over North Africa (1942 Black & White 22:00) This is a rare look at early war US Air Operations in North Africa. B-25 and B-17 bombers of the 321st and 97th Bomb Group help cut off Rommel's retreat from Tunisia. Part of the "North West African Strategic Air Force," these groups were initially tasked with preventing men and material from reaching the Afrika Korps, and later with preventing them from escaping. The missions for the day of this film were to strike from bases in Algeria at the junction at Manouba, near Tunis, and the air field at Sidi Ahmed, near Bizerte, where a large number of extremely valuable JU 52 transports were based, a key element in German evacuation plans. (Ironically, the 321st would soon occupy Sidi Ahmed as their new base for the Sicilian campaign.) The film features an introduction by the theater commander, then 4 star General, Dwight Eisenhower and an afterword by Air Operations Commanding General "Jimmy" Doolittle. Perhaps most memorably, this film is notable for it's extended "up close and personal" look at the men of the 97th & 321st BGs. You'll see real pre mission and after action debriefing sessions with the men who flew them, including a B-17 crew's account of an FW 190 shoot down and the water ditching of a heavily damaged B-25.
http://www.warwingsart.com/12thAirForce/airforcetable.html
At the Casablanca Conference in January 1943, British Prime Minister Winston Churchill and United States President Franklin Roosevelt reorganized the Mediterranean air forces naming RAF Air Chief Marshall Arthur W. Tedder as Air Commander in Chief of the new Mediterranean Air Command (Allied). Both British and American officers became part of the new command structure with the intent of forcing international cooperation. According to "Vol. II, AAF in WWII," this is the new organization as of 17 Feb 1943:
<![if !vml]>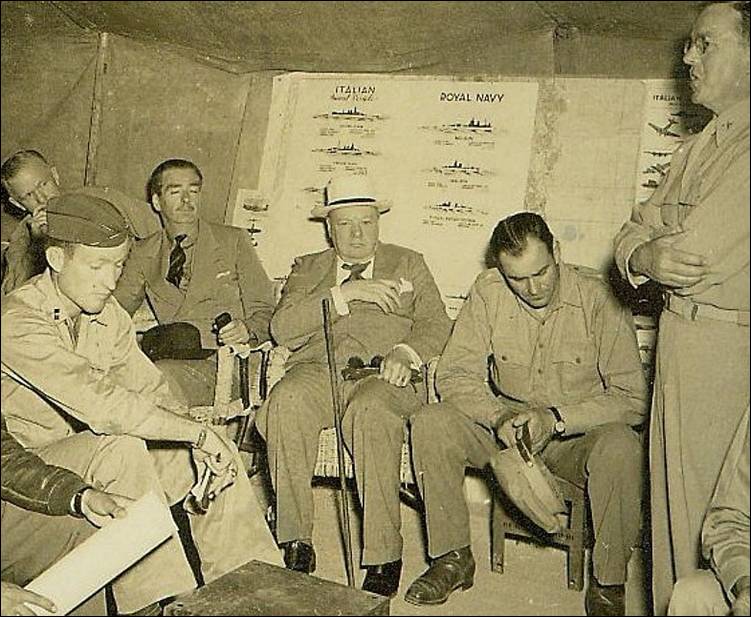 <![endif]>
Winston Churchill in N. Africa bomb mission briefing from W.L. Ross III photo album (rights reserved).


Mediterranean Air Command (Allied)
Air Chief Marshal Lord Arthur Tedder

Northwest African Air Forces
Lt Gen Carl Spaatz

Northwest African Tactical Air Forces
Air Vice Marshal Sir Arthur Coningham

Northwest African Strategic Air Force
Maj Gen James Doolittle  (famed for B-25 raid on Tokyo after Pearl  Harbor)

Northwest African Coastal Air Force
Air Chief Marshal Sir Hugh Lloyd

Northwest African Training Command
Maj Gen John K. Cannon

Northwest African Air Service Command
Maj Gen Delmar H. Dunton

Northwest African Photographic Reconnaissance Wing
Lt. Col. Elliot Roosevelt

Later was added:
Northwest African Troop Carrier Command
Brig Gen Paul L. Williams


Here is an excellent historical link regarding this period:

The Army Air Force in Northwest Africa
http://www.usaaf.net/ww/vol6/vol6pg24.htm
Strategic Attacks on Airfields, April 1943
Attacks on enemy airfields by the Strategic Air Force opened with a 4 April assault on Capodichino by 27 B-17's. Next day, strikes were delivered against Bo Rizzo, Bocca di Falco, and Milo. Others followed on Castelvetrano, Decimomannu, Monserrato, Elmas, and Villacidro. The damage was widespread, particularly on parked aircraft. Later in the month repeat attacks were made, and Grosseto and Alghero were added. the Ninth Air Force made one attack on Bari airdrome, covered the field with craters, and set fire to the buildings. The total bombs dropped in April, including those of the Tactical Air Force, were 3,675 tons; previous to April the total tonnage dropped by Northwest African Air Forces was only 2,253 tons.
Naples, Palermo, Messina, Trapani, and of course Tunis and Bizerte were bombed heavily during this period. Wellingtons, preceded by Pathfinders, visited Tunis three times and Bizerte twice. Day bomber attacks on these two ports were hindered by weather, but effective strikes by B-17' were delivered in 18 sorties against Tunis and 27 against Bizerte. Also, Ferryville was hit by 16 B-17's and its docks were badly damaged.
On 4 April Naples received 99 Middle East-based Liberator and 64 B-17 sorties. The Fortresses hit the power and gas plants, barracks, docks, and shipping. Palermo took three attacks from Northwest Africa and five from the Middle East. B-17's flew 95 sorties on the 16th, 17th, and 18th, and hit six ships, the power station, and the marshalling yards. Messina, which had already suffered extensively from Malta-based and Middle East bombers, continued to be scourged, with the ferry slips as principal targets. The Fortresses registered direct hits on merchant ships and barges. Other Strategic Air Force missions were directed against Marsala, La Maddalena, and Carloforte.
Complete statistics of Axis vessels sunk or damaged are hard to arrive at, as accounts differ widely without giving the bases of decisions. RAF Middle East Review (no. 3, p.24) states that in April 20 ships were sunk, 16 severely damaged, and 32 damaged; this figure apparently refers to the results of attacks on Axis harbors and at sea, and must apply only to sizeable ships.
General Patton's advance on Gafsa began before General Montgomery's push toward the Mareth Line, but the two movements soon merged into one. On 17 March the U.S. 1st Armored Division defeated the Italian defenders of Gafsa and entered the town. By the 22d, in spite of rainy weather, Maknassy was occupied. Meanwhile the U. S. 1st Infantry Division had advanced beyond El Guettar, and between that point and Maknassy the front was established.
The XII Air Support Command was active in breaking the way, and for the first time light and medium bombers in 18-aircraft formations rendezvoused with fighters and blasted targets. On the 19th a full-dress air attack was commenced by Tactical Bomber Force on Tebaga and Gabes landing grounds, and during the next two days Strategic also delivered maximum-weight strikes. Spitfires covered the returning bombers and spread havoc among pursuing Messerschmitts. Fragmentation bombs were employed, and experiments were conducted to determine the best bombing patterns to use in order to destroy aircraft on the ground. The object of interdicting the use of the Axis air forces against the Eighth Army was almost perfectly attained; in these days only five enemy aircraft appeared over the Eighth Army in offensive roles.
The bombing of German-held southern Tunisian airfields was almost continuous; those well were covered every 15 minutes on the 22d while the Desert Air Force was attacking the Ksar-Rhilane position. By 7 April the enemy had abandoned the forward airdromes, and combined assaults by Tactical and Desert Air Forces soon forced his aircraft out Sfax.
General Montgomery launched his frontal attack on the Mareth Line on the night of 20-21 March, well preceded by night bombers. It took two days to make good the crossing of the Oued Zigzaou, the natural tank obstacle on Rommel's front. Western Desert's full force was utilized in cooperating with the advance by day and night, and it was of great aid in bombing tanks, convoys, and gun positions, and in the general softening-up of the enemy.
The key to General Montgomery's strategy was a "left hook" to Rommel's right near El Hamma, which was delivered by the New Zealand infantry and the British 1st Armored Division. This movement was preceded on 26 March by one of the most intensive and concentrated air cooperation offensives on record up to that time, in an effort to blast a hole through Rommel's panzers.
http://www.usaaf.net/ww/vol6/vol6pg28.htm
Tactical Cooperation 8-13 May 1943
The ground situation was changing too rapidly during the drive on Tunis for cooperation calls to be waited for or acted upon, and the air forces were ordered to disrupt the enemy's already disorganized movement. In particular, strong bombing and strafing attacks were made on the road from Tunis to Bizerte in the vicinity of Protville, on the roads and bottlenecks leading to the Cape Bon peninsula, and on the westward defile out of Tunis at Hamman Lif. The enemy forces between Tunis and Bizerte were surrounded; on 19 May they surrendered.
The important sector, however, was to the east, where large forces might reach the Cape Bon peninsula and fight a delaying action. The air task in this area was to assist our armor to force the defile at Hamman Lif, whilefighter-bombers maintained constant pressure. On 9 May the Army broke through and moved rapidly down to Bou Ficha; this was the main stroke required to complete the dislocation of the enemy. Meanwhile all other air components were strafing and bombing any movement on the peninsula, blasting harbors, landing grounds, and coastal shipping.
by 10 May, with the enemy surrounded, no appreciable armed forces had reached the peninsula. From that day until the final surrender on 13 May, our air power was active against ground targets, but only to keep the pressure on until the end. Isolated pockets were attacked upon Army request. The last operation in the North African campaign was an attack by Western Desert Air Force bombers on the remaining enemy pocket north of Enfidaville.
The Tactical Bomber Force on 11 May 1943 had been in operation for 53 days, of which 41 were flying days. In that period it had flown 3,1254 day and 783 night sorties, dropping 2,262.5 tons of bombs. This record was compiled in spite of shortage and unsuitability of aircraft crews, of equipment, and of maintenance crews. The lessons learned by the Tactical Bomber Force were:
<![if !supportLists]>1. <![endif]>That fighter-bombers were better suited than mediums for close cooperation, and that they could better utilize forward airfield space.
<![if !supportLists]>2. <![endif]>That medium bombers were better adapted to close-in strategic bombing, which is uneconomical for heavies and beyond the range of fighter-bombers.
<![if !supportLists]>3. <![endif]>That formation leaders should make reconnaissance flights to areas scheduled for attack.
During the campaign from 18 February to 11 May, less than three months, Tactical Air Force units completed 59,000 sorties, destroying 572 enemy aircraft, more than 500 motor vehicles, and 33 miscellaneous ships. These same units supplied the greatest weight of air attack ever undertaken in cooperation with ground forces up to that time.
In May one of the air forces' chief tasks was to interdict escape of the beaten Axis forces from Tunisia. For the first four days of the month the weather was so bad that few effective sorties could be flown, but on the 5th, Strategic and Tactical together sank two ships, severely damaged one, and damaged four. Tunis and La Goulette docks and marshalling yards were also damaged by 53 sorties of B-17's. Six SM-82 bombers and three fighters were also shot down during the day.
On the 6th, Strategic sank six Siebel ferries and four other small boats, and damaged five; all were headed for Sicily laden with troops. Meanwhile air strikes were delivered on Marsala, Trapani, and Favignana. At Marsala 10 ships were hit, two severely; at Favignana near misses were scored on two more vessels. On the same day Tactical Air Force aircraft blew up a destroyer and set another on fire. During the first week of May, 20 enemy vessels were sunk, seven probably sunk, and 12 damaged.
<![if !vml]>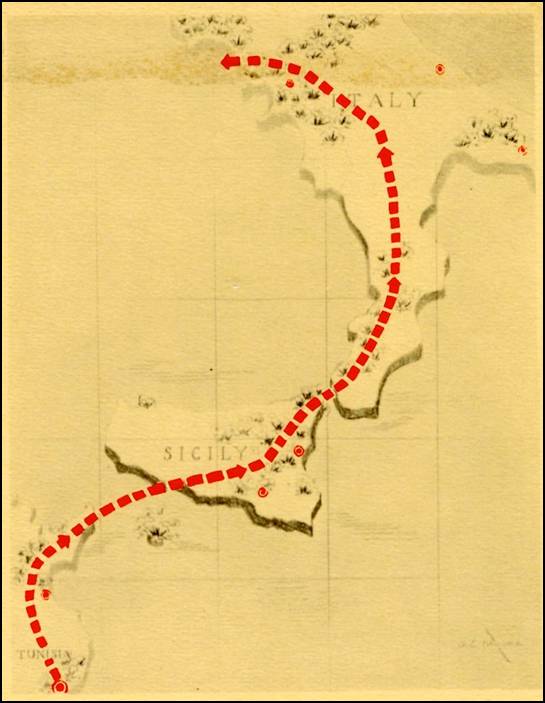 <![endif]>
Map from 12th Air Force advance from N. Africa through Sicily to S. Italy
For the remainder of the campaign numerous Sicilian and Sardinian ports were bombed, chief among them Palermo, Marsala, and Cagliari,. The strategy had now passed from cooperation and interdiction to softening up for the next invasion. Palermo was the victim of 122 B-17's and 89 mediums on 9 May, and later, of 23 Wellingtons. A total of 458 tons of bombs was dropped. These blows were very destructive, with numerous fires and explosions among docks and railway yards. One ship was blown up. Seventeen enemy fighters were destroyed, with one B-17 shot down and more than 50 others damaged, mostly by flak. On the 11th Marsala was visited by 180 bombers\, and again Wellingtons followed to the number of 22. About 450 tons of bombs were unloaded; numerous hits were scored on docks, railway yards, shops, and warehouses; and fires were started that were visible 90 miles away.
On the 13th Cagliari was bombed by 107 B-17's, 96 B-25's, and 22 Wellingtons, which dropped 438 tons. One ship exploded and four more caught fire. As a result of this highly successful attack, Cagliari virtually lost its entire value as a port. Other effective assaults were made on Olbia, Alghero, Porto Torres, Civitavecchia, and Porto Ponte Romano.
With Axis aircraft now withdrawn to Sicily and Sardinia, airfields on those islands provided fruitful hunting grounds. Pantelleria was the prey of Desert Air Force light bombers, U. S. mediums, and Strategic's P-38's on 8 May and for the two days following. The landing ground was put out of commission, the doors of the underground hangar were jammed, and a large assortment of stores and aircraft was destroyed. Meanwhile bombers of the Strategic Air Force flew over Milo and Bo Rizzo airdromes, and Wellingtons over Villacidro, Elmas, and Decimomannu. The havoc was especially great among parked aircraft. The Strategic Air Force attacks were both made on the same day, 10 May, when 45 bombers attacked Milo airfield, causing fires and explosions and destroying 15 aircraft; at Bo Rizzo, attacked by 46 B-17's, there were many fires, but one B-17 was lost to enemy fighters.
 Southern Italy Liberated (June 4, 1944).