DEDICATED TO 340th BG 487th BS B-25 PILOT

CAPT. JAMES A. LITTLEFIELD

Site edited and maintained by Doug Cook

<![if !vml]>

<![endif]><![if !mso]>

<![endif]> <![if !mso]>

<![endif]><![if !mso & !vml]> <![endif]><![if !vml]>

<![endif]>       <![if !vml]>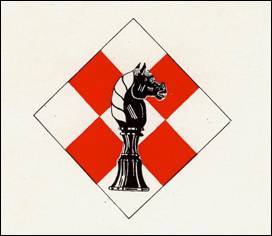 <![endif]>   <![if !vml]>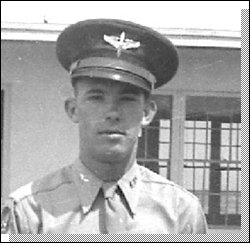 <![endif]>

Subject: 487th Squadron

Doug,

I am a former B-25 pilot [now 87 years old - Jan 2008] with the 487th Squadron. I was in Corsica from May 21, 1944 to Dec.30, 1944. I flew 66 missions. My name is shown on the mission sheets as J.A. Littlefield. I have really enjoyed your web site very much. I have pictures of airplanes and the squadron area that I would be happy to share with you. Please let me know if you would like to see them.  

I remember your father's face [Capt. Chas. Cook] but don't remember anything else about him. I don't think that I ever flew in the same plane with him.

[Mission sheets show that they flew several missions together].

[My photo] negatives were developed by me in a tent over on Corsica and forgotten over the years.  I have had a photographer put a lot of previously unprinted pictures on a disk.

                                        A former 487th pilot,

                                       (Capt) James A. Littlefield

                                        8601 Seven Oaks Lane

                                        Denton, TX 76210

<![if !vml]>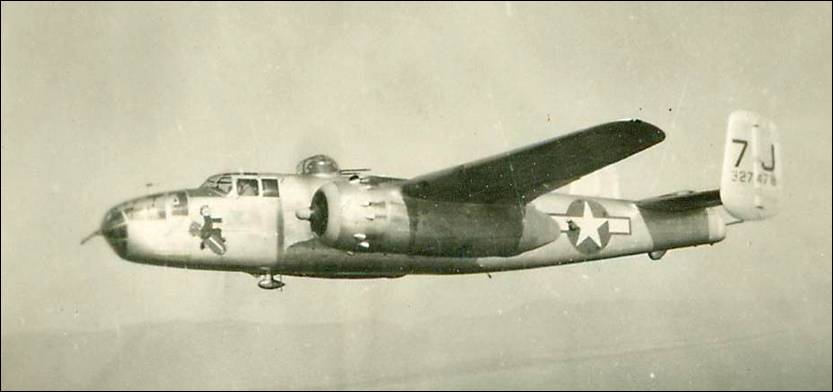 <![endif]>
487th Squadron 7J 'Yahoudi'  piloted by Littlefield Aug 19, 1944 on a mission to bomb RR Br at Orange, France
(photo from Capt. Chas. Cook collection)
<![if !vml]>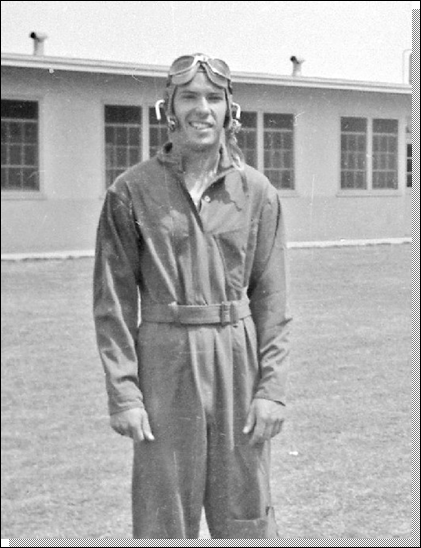 <![endif]>                      <![if !vml]>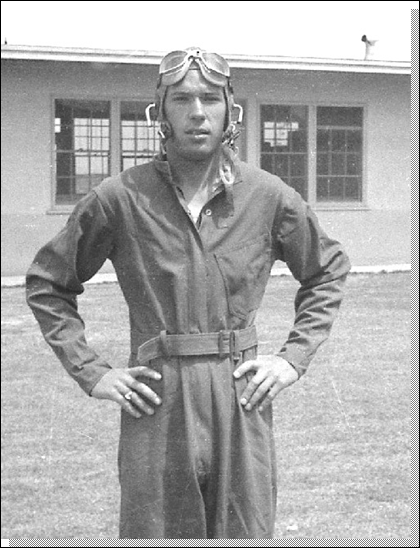 <![endif]>
Pilot training and graduation 'Stateside'.
<![if !vml]>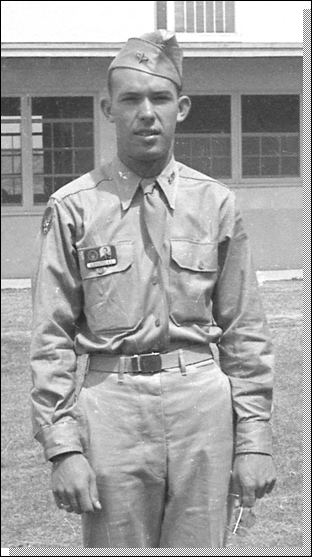 <![endif]>                    <![if !vml]>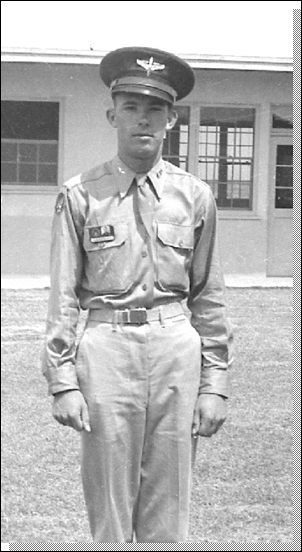 <![endif]>
New Pilot's Wings  2nd Lt. James A. Littlefield
<![if !vml]>
<![endif]>
Jimmy and his wife in Ruidoso, NM 1945
My wife died on June 30, 2006. We were married for 60 years and 8 months. I was an old man of 25 years when we got married, so I never thought we would be married that long. I have a son, Mike, two granddaughters, three great granddaughters and one great grandson. Both granddaughters are in the process of giving me two more great grandchildren. After I got back to the states, I was sent to Pampa, Texas to teach B-25 transition. While there I was sent to Instrument School at Lubbock, TX. When we finished there we were given a questionnaire in which one of the questions was "Would you like to be an instructor in the Instrument School?". I answered no and two weeks later I was transferred to Lubbock. While I was there I met my wife and we were married.  After I got out, I went to work at Lubbock National Bank as a teller. I remained there for 39 years and became Senior Vice President over Operations. I then worked at First State Bank in Abilene, TX for 2 1/2 years before retiring. We moved back to Lubbock and lived there for 20 years before moving to Denton to be with our son. I'll will think about you [in Saudi Arabia] the next time I gripe about the temperature and shut my mouth.
<![if !vml]>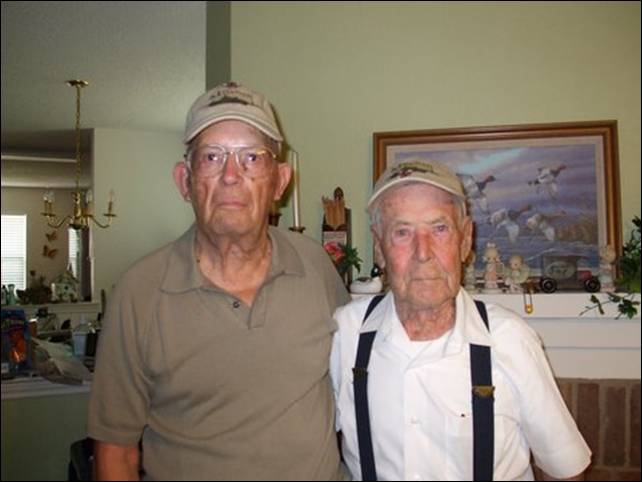 <![endif]>
I had a very nice reunion with my radio-gunner Joe Whalen (right) this past weekend (sent July 2, 2008).
His Son-in-law and his Granddaughter come with him. We had a nice visit after 63 years.
<![if !vml]>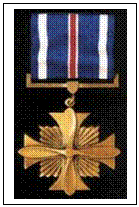 <![endif]>I was born in Corinth, MS and moved to Texas in 1938 after I finished high school. I have a Distinguished Flying Cross and 13 Air Medals. I was given the DFC for getting back from my 10th mission on one engine and we ran out of fuel, brakes shot out and my good engine quit 1/4 of the way down the runway. We crashed, but no one was hurt badly. Everyone else got the Purple Heart. [Your father's album had] one of the pictures of 7D [after the landing]. I made Captain after I returned to the states.
[I asked James for some details on this skilled emergency landing.]  In regard to 7D, It's been a longtime since that happened, I can't say that it was my skill and determination that got us back. I did what I had been taught to do to get the plane and crew back. It was something a lot of pilots did from time to time. We were hit [by flak] over the target and lost the right engine and on this mission we were breaking left and down after we had dropped our bombs so I lost a lot of altitude. We were leaking fuel but we couldn't see it.  The B-25 could maintain altitude on one engine but couldn't climb. We tossed out some equipment that wasn't tied down in order to clear the mountains on Italy's west coast. We had no problems and made clear approach, with the meat wagons waiting on us. I lowered the nose and checked the brakes and they seemed OK. I then pulled the nose up to kill some speed. When the nose came down, the right brake gave away and the left brake locked. I hit the left throttle to bring the ship to the right and the left engine ran out of fuel, taking us left. I told the copilot to pull the emergency air lever. He pumped the hydraulic pump instead. We hit an old bomb casing, knocking out the nose gear. The mission [target] as have it noted in my log book was Fano [M/Y June 10, 1944  NE coast of Italy- a long way to  limp back to Corsica!].  I didn't keep very good records. 7D had no name or nose art.
340th BG 487th BS - SN 43-27556 - 7D
<![if !vml]>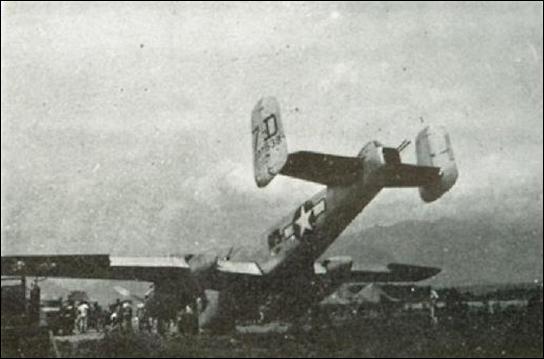 <![endif]>
From Charles Cook's 487th Squadron Album dated ~June 1944
I left college at Christmas break 1941 and went to work at a primary flying school at Coleman, TX. My job was crewing 3 PT-19s at night. I took the cadet exam here and was accepted as a cadet. We moved to Paris, TX and into service in Dallas. We were sent to Santa Anna, Calif for preflight, From there we went to Tex Rankin Primary School, flying Stearmans. Our class was 43K. Our basic training was at Marana Air Army Base, flying B-13 Vultee Vibraters.  After half of our training, our class no. was changed to 43KX and we were trained in AT-17s. They wanted to see if they could cut the time needed get the pilots in combat sooner. When we graduated we were given the chance to go either into B-25s or P-38s. I chose the Mitchell. Our next base was at Lujanta, Colo. The upper classmen had already graduated and had their wings and commissions. Think they didn't give us a hard time. We were cadets flying B-25s. After graduation we were sent to Lake Charles LA to fly B-26s, why no one knew. We started raising hell to go to B-25s. The Base commander called us together and told us that he was doing his best to get us transferred and when we 20 men left the base, everyone on the base would breathe a sigh of relief. We were then sent to Greenville SC back to our beloved B-25s, as the CO put it. I really worked hard to finish early because they promised us leave for the number of days that we finished early. I finished at the same time as the class ahead of us. Since I had almost 30 days leave, I rushed down to Base HQ. I got the papers to clear the base, when I returned them completed, the Sgt. told that I could be gone until midnight tomorrow night. Seems they were short a crew and guess who took their place. We were sent to Savannah GA, where we picked up our equipment and plane. After several days we were off to West Palm Beach, FL. There our equipment was unloaded and rechecked and reloaded. We were given a set of sealed orders and a compass heading with instructions not to open the orders until we reached the point of no return. We were going to Puerto Rico, and were going to Algeria by way of British Guyana, Natal,&  Belem, Brazil to Ascension Island. [Then to] Liberia, Dakar & Marrakech, Morocco and to Algiers. We exchanged planes in Algiers and spent a couple of days there. We then left for the [487th Squadron]. Enroute we were told to go instead to Ajaccio [Corsica west coast]. Seems the field at Alesan [Corsica east coast] would not be ready until the next day on account of the [German] air raid [May 13,1944]. The next morning we were allowed to proceed to Alesan. We arrived on May 23, 1944. I wonder if the plane that I flew from Africa was the one later named McKinley JR High (below). It was supposed to arrive on May 20, 1944 .
<![if !vml]>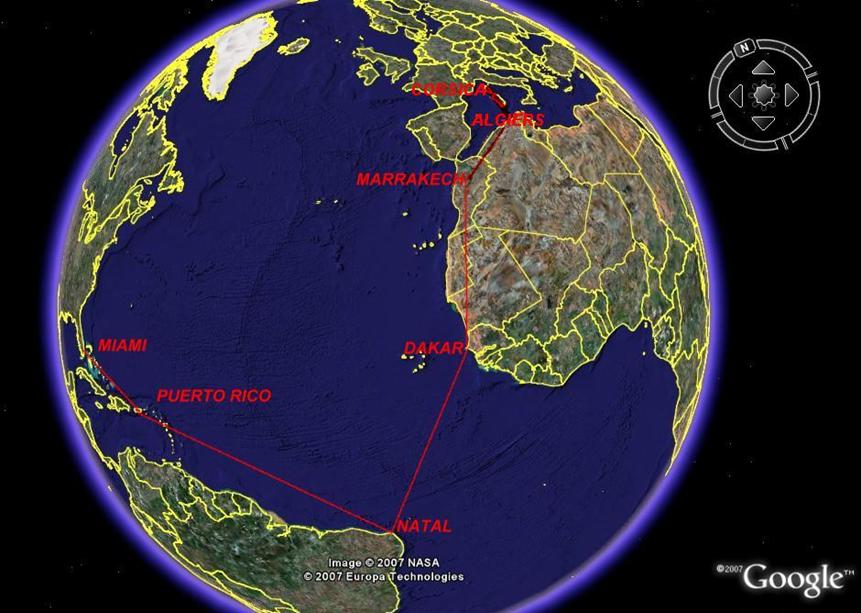 <![endif]>
340th BG 487th BS - SN 43-27656 - 7C
McKinley Jr. High  (from Capt. Chas Cook's album)
<![if !vml]>

<![endif]>
<![if !vml]>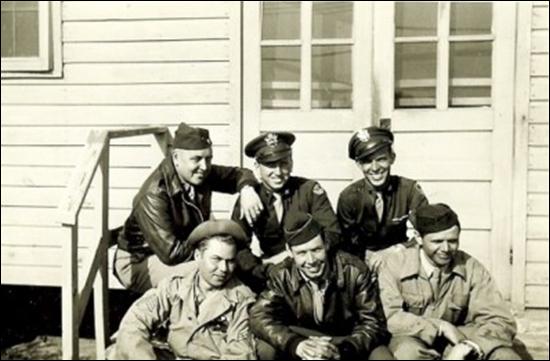 <![endif]>
My crew- Lt. to Rt. Front: Copilot Spurling, Turret Gunner Kenyon, Bombardier Miller  
Rear: Radio/Waist Gunner Whalen, Pilot Littlefield,  Flt. Engr./Tail Gunner Boaz.
<![if !vml]>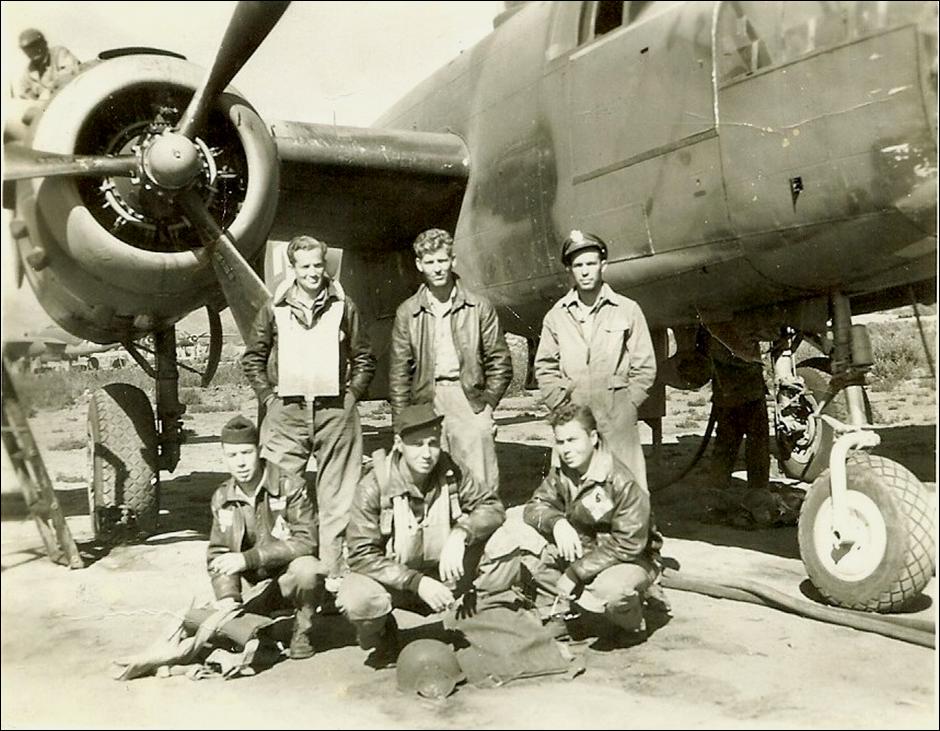 <![endif]>
Rt. to Lt. Front:  Whalen, Williams (Sqn. Bombardier ?)  
Rear: Kline, Kenyon, & Littlefield.
340th BG 487th BS – SN UNKNOWN
RUM DUM
<![if !vml]>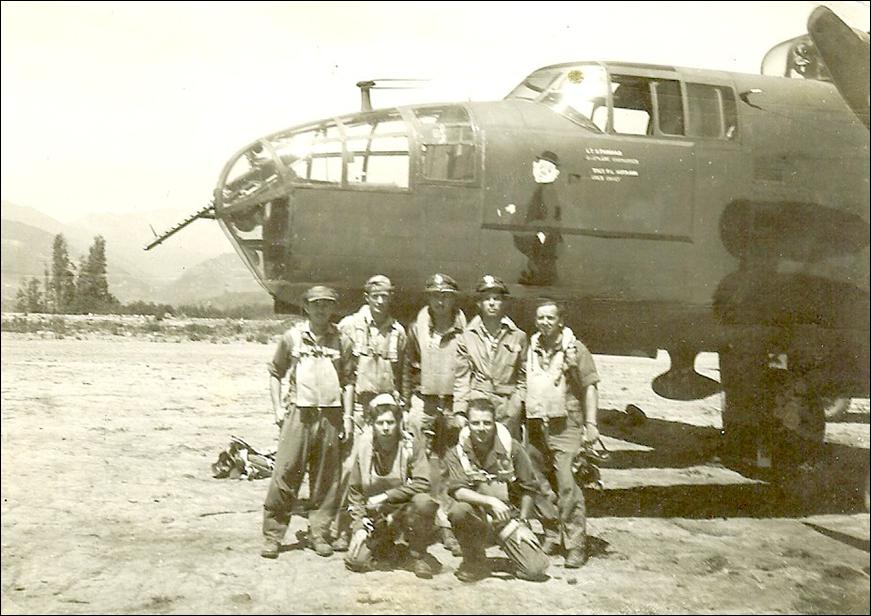 <![endif]>
Lt. to Rt. Rear: Lincks, Faylor, Crandall, Littlefield, Miller
 Front row: Whalen and unknown.
340th BG 487th BS - SN 42-53483 - 7M
TUFF STUFF
 (Shot down Feb. 13, 1944)
<![if !vml]>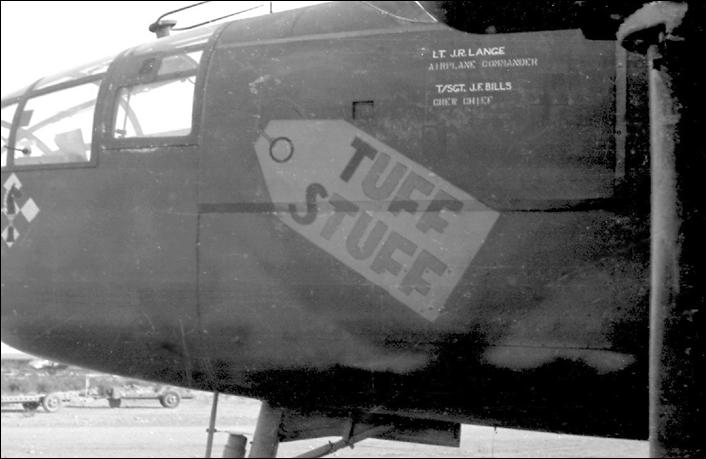 <![endif]>
340th BG 489th BS – 9A  Li'l Jasper
<![if !vml]>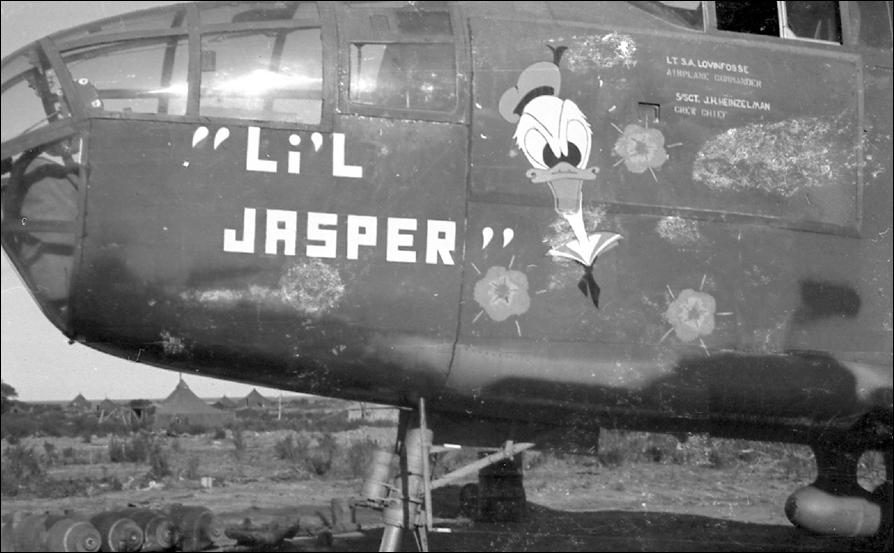 <![endif]>
340th BG 489th BS – 9G   Bubbies
<![if !vml]>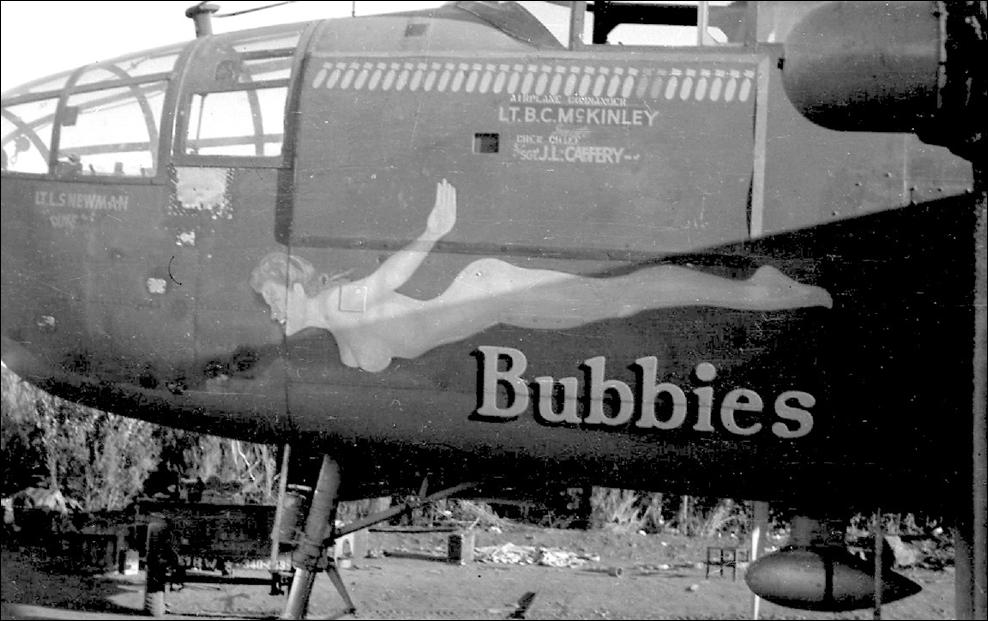 <![endif]>
340th BG 489th BS – 9S  Knockout
<![if !vml]>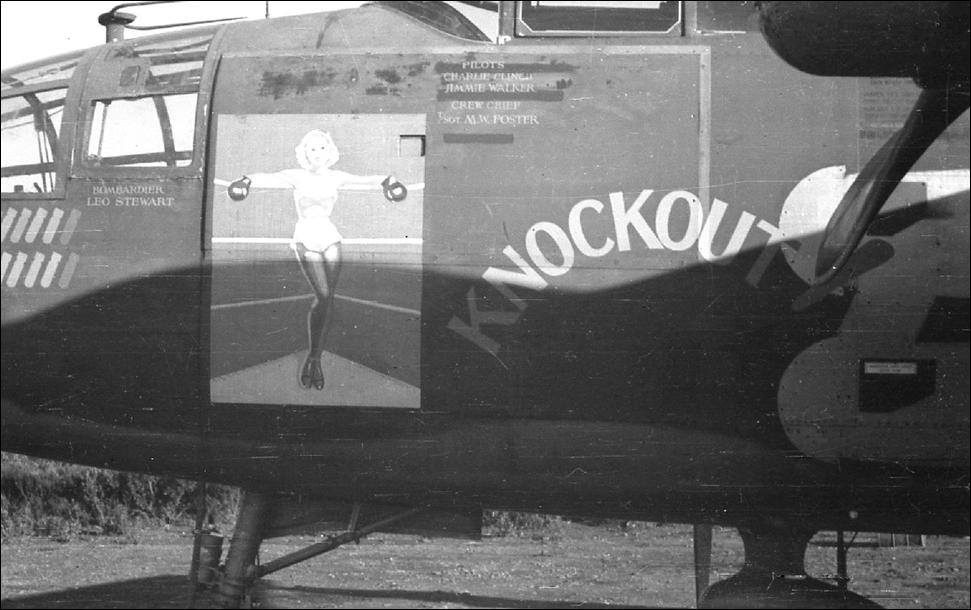 <![endif]>
340th BG 489th BS – 9W  Morning Mission
<![if !vml]>
<![endif]>
340th BG 489th BS – 9X  Queen Mary
<![if !vml]>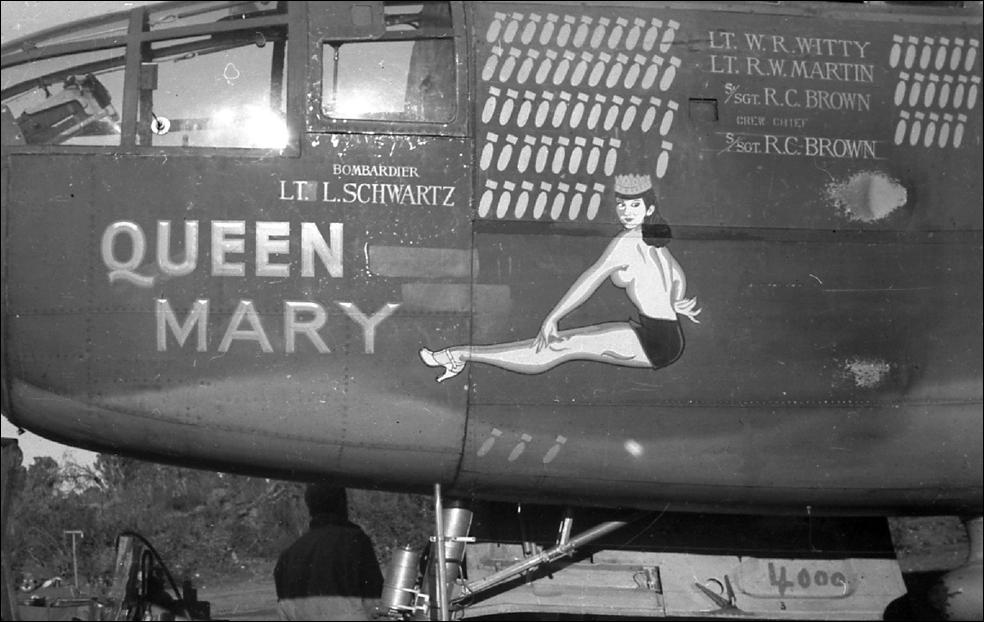 <![endif]>
340th BG 489th BS – SN UNKNOWN  Daisy-C
<![if !vml]>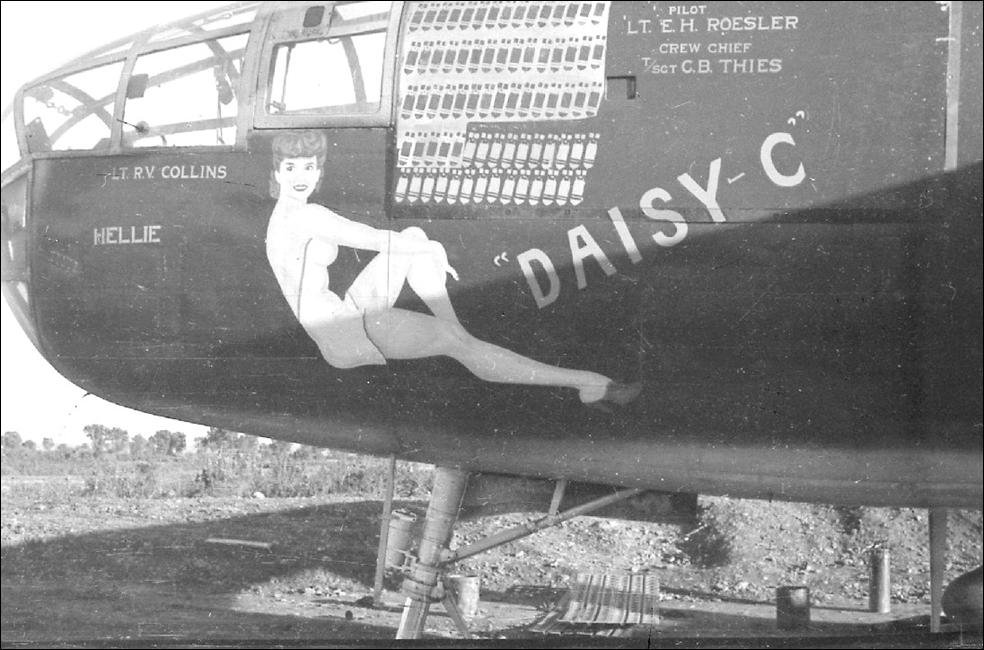 <![endif]>
FREE, WHITE, and FILTHY - SN UNKNOWN
<![if !vml]>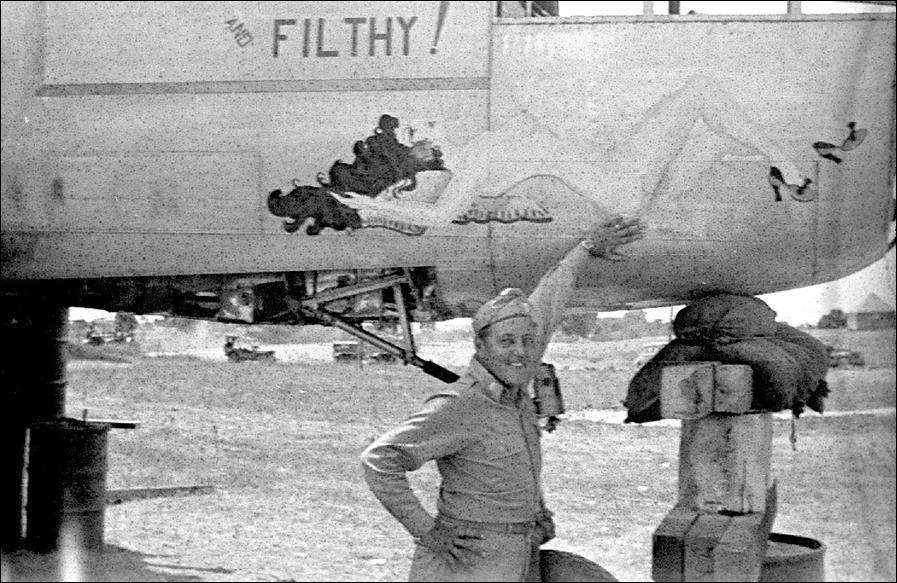 <![endif]>
487th BS Copilot Lt. Ray Spurling
SN UNKNOWN
<![if !vml]>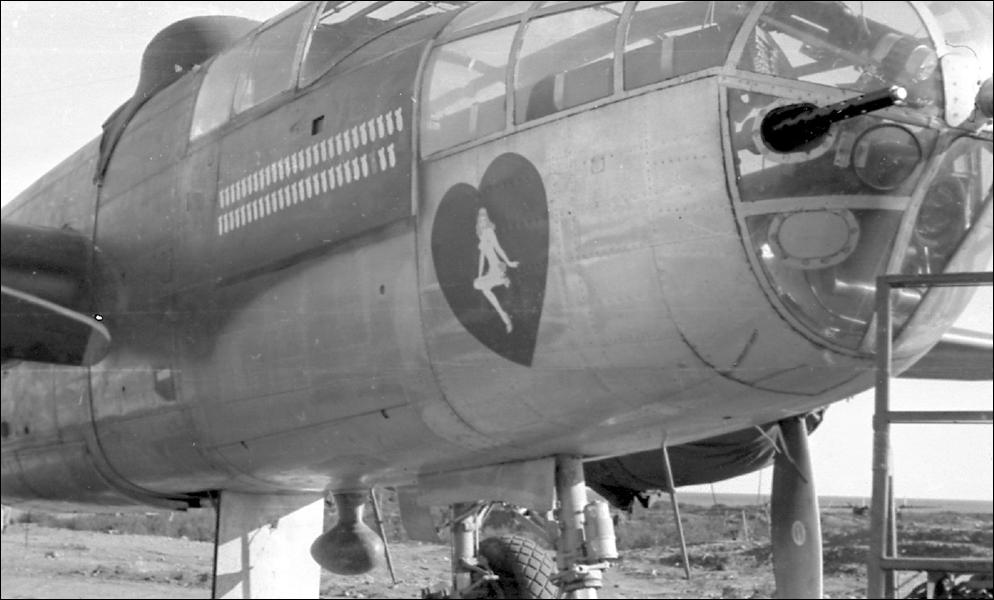 <![endif]>
<![if !vml]>
<![endif]><![if !mso]>

<![endif]> <![if !mso]>

<![endif]><![if !mso & !vml]> <![endif]><![if !vml]>
<![endif]>